Book 2 in PB is ON SALE NOW!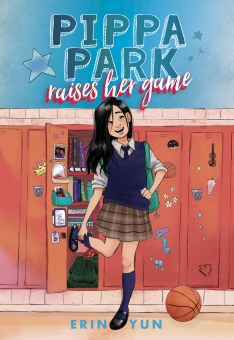 Book 1 - Over 50k Sold!
---
"An empowering celebration of identity, friendship, and embracing one's roots."
—Publishers Weekly
"Pippa is a magnetic heroine, funny and good-hearted... will appeal to a wide audience."
—Booklist
"This charming and fast-paced middle-grade novel highlights family, friendship, and identity."
—Common Sense Media
"An enjoyable read with a buoyant contemporary twist on an old classic."
—School Library Journal
---

Readers will cheer on Pippa Park in this wonderful middle school book about friendships, bullying, crushes, and family. In this relatable story, Pippa reinvents herself and discovers who she really is on and off the basketball court.

Life is full of great expectations for Korean American Pippa Park. It seems like everyone, from her family to the other kids at school, has a plan for how her life should look.

When Pippa gets a mysterious basketball scholarship to Lakeview Private, she jumps at the chance to reinvent herself. At school, Pippa juggles old and new friends, a crush, and the pressure to get A's and score points while keeping her past and family's laundromat a secret from her elite new classmates.

But when Pippa begins to receive a string of hateful, anonymous messages via social media, her carefully built persona is threatened. As things begin to spiral out of control, Pippa wonders if she can keep her old and new lives separate, or if she should even try.
"A
heartfelt story
...has
broad appeal and fleshed-out characters
who all share in the limelight…for folks who like to read about
triumphant underdogs
.
" —Booklist
"Pippa explores the highs and lows of friendships and first crushes in this well-crafted sequel to Pippa Park Raises Her Game. ..VERDICT This warm-hearted, feel-good series continues to realistically explore one Korean American girl's middle school experience in a relatable way." —School Library Journal

"This charming and entertaining sequel perfectly captures the awkwardness of middle school...tweens will learn the importance of teamwork, communication, and perseverance and understand that it's OK to ask for help." —Common Sense Media

"This is solid, classic middle-school drama fare that benefits from the interesting ways Pippa's family background is developed. An engaging variation on a familiar theme." —Kirkus Reviews

"[The book] will have a special appeal to young readers with an interest in peer pressure and friendship…very highly recommended for elementary school, middle school, and community library" —Midwest Book Review
---
Join Pippa Park as she juggles friendships, peer pressure, crushes, and family in the sequel to the relatable drama-filled middle school book Pippa Park Raises Her Game.
Korean American
Pippa Park picks up right where she left off . . . trying to balance basketball, school, friends, working at the struggling family laundromat, and fitting in. Eliot, her math tutor—and the cutest boy at school—is finally paying attention to her. And Marvel—her childhood friend—is making her required volunteering much more interesting. But things with the Royals, her new friends and teammates who rule the school, still feel a bit rocky. Especially because Caroline, a head Royal, would like nothing more than to see Pippa fail.
So when Pippa is faced with hosting the annual Christmas Eve party that could make or break her social life, how can she say no? Will Pippa make enough money to cover the costs while juggling crushes and everything else? With courage and determination, Pippa sets out to host the party, find the perfect dress, pick the right boy, and stay true to her real self.