Pippa Park Raises Her Game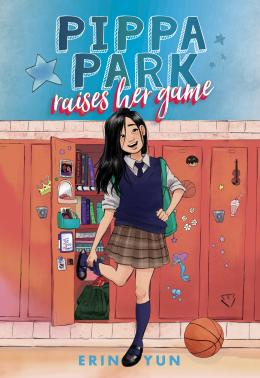 Published by Fabled Films Press
Paperback ISBN: 9781944020286
April 13, 2021
$8.99 USD | 288 pages
Lexile 710L | Fountas & Pinnell V |
Now an AR Quiz!
Also available in Hardcover and eBook
Read an Excerpt
Educator Guide
LISTEN TO ERIN YUN READ FROM THE BOOK:
---
"An empowering celebration of identity, friendship, and embracing one's roots, Yun's loose reimagining of Great Expectations follows a first-generation Korean-American girl learning to navigate her new life at an elite private school.... author Yun writes of Korean-American family life with heart- warming, authentic detail..." —Publishers Weekly

"Pippa is a magnetic heroine, funny and good-hearted, and young readers will relate as she makes one honest mistake after another in an effort to fit in. A nice balancing act between sports action, middle-school drama, and the struggles of an underprivileged immigrant family that will appeal to a wide audience." —Booklist

"This charming and fast-paced middle-grade novel highlights family, friendship, and identity... Readers will relate to Pippa's struggles adjusting to life at her new school...Tweens will appreciate how Pippa learns to embrace her roots and her family's unconditional love." —Common Sense Media

"In this reimagining of Charles Dickens's Great Expectations, familiar themes and predictability are offset by the depiction of Korean culture and language, which add texture and depth to the narrative. Readers will sympathize with this likable heroine as she struggles to succeed. VERDICT An enjoyable read with a buoyant contemporary twist on an old classic." —School Library Journal

"This is a highly engaging and relevant title for schools that takes up issues of social class, ethnic identity, and the venture of staying true to oneself which will lend itself well to educators and parents looking to support growth in today's tweens. Highly Recommended." —School Library Connection
"In Erin Yun's enchanting
Pippa Park Raises Her Game,
a girl starts a new school and tries to reinvent her image...
an exciting middle grade novel about middle school struggles and feeling out of place.
"
—Foreword Reviews
---

Readers will cheer on Pippa Park in this wonderful middle school book about friendships, bullying, crushes, and family. In this relatable story, Pippa reinvents herself and discovers who she really is on and off the basketball court
Life is full of great expectations for Korean American Pippa Park. It seems like everyone, from her family to the other kids at school, has a plan for how her life should look.
When Pippa gets a mysterious basketball scholarship to Lakeview Private, she jumps at the chance to reinvent herself. At school, Pippa juggles old and new friends, a crush, and the pressure to get A's and score points while keeping her past and family's laundromat a secret from her elite new classmates.
But when Pippa begins to receive a string of hateful, anonymous messages via social media, her carefully built persona is threatened. As things begin to spiral out of control, Pippa wonders if she can keep her old and new lives separate, or if she should even try.
Bonus Content
Discussion Questions, Author Q&A, and Korean Language Glossary with Pronunciation Guide

---
Paperback | 288 pages | $8.99 USD | 9781944020286 | April 13, 2021
Also available as...