Pippa Park Crush at First Sight, Ebook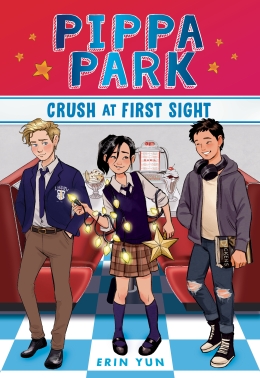 By Erin Yun
Published by Fabled Films Press
Ebook ISBN:
9781944020897
September 13, 2022
$9.99 USD | 288 pages
Lexile: 730L | Fountas & Pinnell: V |
Now an AR Quiz!
Also available in Hardcover
Read an Excerpt
Educator's Guide
---
"A heartfelt story...has broad appeal and fleshed-out characters who all share in the limelight…for folks who like to read about triumphant underdogs." —Booklist

"Pippa explores the highs and lows of friendships and first crushes in this well-crafted sequel to Pippa Park Raises her Game. ..VERDICT This warm-hearted, feel-good series continues to realistically explore one Korean American girl's middle school experience in a relatable way." —School Library Journal

"This charming and entertaining sequel perfectly captures the awkwardness of middle school...tweens will learn the importance of teamwork, communication, and perseverance and understand that it's OK to ask for help." —Common Sense Media

"This is solid, classic middle-school drama fare that benefits from the interesting ways Pippa's family background is developed. An engaging variation on a familiar theme." —Kirkus Reviews

"[The book] will have a special appeal to young readers with an interest in peer pressure and friendship…very highly recommended for elementary school, middle school, and community library" —Midwest Book Review

"Readers who missed the first installment, Pippa Park Raises Her Game, won't have any trouble picking up on this volume. It completely stands alone." —School Library Connection
---
Join Pippa Park as she juggles friendships, bullying, crushes, and family in the sequel to the compelling drama-filled middle school book Pippa Park Raises Her Game.
Korean American
Pippa Park picks up right where she left off . . . trying to balance basketball, school, friends, working at the struggling family laundromat, and fitting in. Eliot, her math tutor—and the cutest boy at school—is finally paying attention to her. And Marvel—her childhood friend—is making her required volunteering much more interesting. But things with the Royals, her new friends and teammates who rule the school, still feel a bit rocky. Especially because Caroline, a head Royal, would like nothing more than to see Pippa fail.
So when Pippa is faced with hosting the annual Christmas Eve party that could make or break her social life, how can she say no? Will Pippa make enough money to cover the costs while juggling crushes and everything else? With courage and determination, Pippa sets out to host the party, find the perfect dress, pick the right boy, and stay true to her real self.
GREAT FOR READERS AGES 9–12
Bonus Content in the Book includes:
Author Q&A, Book Club Questions, and Glossary of Korean Words.
Bestselling AAPI Book
Perfect for the School Classroom or Library!
Now an AR Quiz!
Complimentary Guides:
AAPI Discussion and Anti-Racism Resource
&
Common Core Language Arts Guide
on our website
Tween Book Club
with printable activities on our website
Includes word games, make-your-own-book playlist, fortune teller, and discussion questions
The Series is a Contemporary Reimagining of Great Expectations by Charles Dickens

---
Ebook | 288 pages | $9.99 USD | 9781944020897 | September 13, 2022
Also available as...