Book Review: Frankly in Love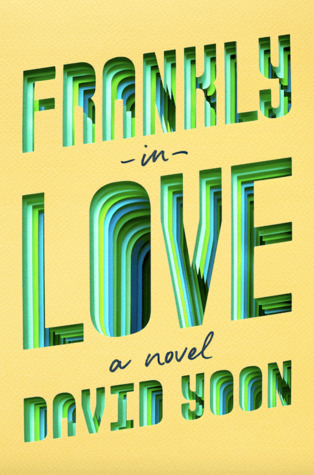 At the start of the book, we meet Frank Li, a Korean American going into his senior year of high school. Despite the fact that he was born and raised in Southern California and speaks only a little Korean, his parents still expect him to exclusively date Korean girls. So, when Frank falls for a white girl, Brit, he knows his parents will never approve. However, a family friend of his, Joy Song, is in a similar situation with her boyfriend, Wu, who is Chinese, so the two decide to fake date each other. After all, that will appease their parents and free up more time for them to spend with their respective partners. Simple, right? But, as anybody who likes to read books with fake-dating tropes knows, love is never simple, and as Frank spends more time around Joy, he begins to realize how little he actually knows about love.
While many summaries of Frankly in Love focus on the fake-dating aspects of the book, in reality, a lot of the central conflict revolves around Frank's struggles with his identity (until the last hundred pages of the book, when there are suddenly so many plot events happening at once that the pacing feels a bit rushed). Frank is Korean American, and he interrogates the ways in which he is both Korean and American and the tension between the two. He often feels not Korean enough, as he doesn't speak the language, which is something I could completely empathize with. As a half-Korean woman (who looks more white than Korean) who is also not fluent, I sometimes feel like I'm somehow being Korean wrong, as if there's a right way to be Korean. I grew up eating Korean food, watching Korean dramas, and visiting family in Korea, but the language barrier has always made me feel like a disappointment. I think it works as a compliment to Yoon's writing that he made me feel so connected to the character that I was frequently tearing up throughout the narrative—and not even at some of the more overtly sad events.
I also appreciated that, in his exploration of Korean identity, Yoon made sure not to simply romanticize Koreans but also to spotlight the anti-blackness and racism that exist in Korean communities. Frank loves his parents but acknowledges that they are also anti-black—at the start of the book, we find out that Frank's sister, Hanna, was disowned after marrying a black man, and his parents often make extremely discriminatory statements against almost anyone who isn't Korean.
While I definitely connected with Frank and loved his voice, I wasn't as enamored with his character as a whole—which isn't so much an indictment of the book as it is of his personality. First of all, he ends up cheating on one of the love interests, and regardless of who I was rooting for him to end up with, it still made me like him less. But I suppose that's what happens when you instantly fall in love with somebody, which Frank tends to do. Let me give you some context. This is a 400-page book. Frank introduces us to his first love interest, Brit, on page 33. They know each other but don't seem close. On page 35, Brit asks Frank to be her partner on a school project. On page 42, they're making out in a random minivan. And then, in the next chapter, they're officially dating and completely obsessed with each other. I get that sometimes infatuation is quickly formed and passionate, but I just wish there was more time and attention spent on constructing both of Frank's love interests.
However, while there were a few points of critique regarding the romance aspects of the book, I still completely enjoyed it. The gripes I had with Frank as a character were overcome by his voice—at his best, he is witty, breezy, fun, and sharp, and I found myself compulsively turning pages. Despite the size, I finished it in a day. I also liked some of the side characters—Wu Tang, for example, is such a lovable jock, and I kept wanting more of Frank's best friend, Q, who is nerdy, wholesome, and always comes through for Frank. Plus, there were at least three different points in the book where I laughed out loud . . . or at least snorted quietly through my nose.
All in all, if a book manages to both make me cry and laugh (sometimes in the same chapter!), then, despite some mild criticisms here and there, I know that it will definitely be a book that I'll remember and recommend to others. And to be frank? Frankly in Love fits that bill.

Disclosure: I am an affiliate of Bookshop.org and I will earn a commission if you click through and make a purchase.