Must-Reads for Hispanic Heritage Month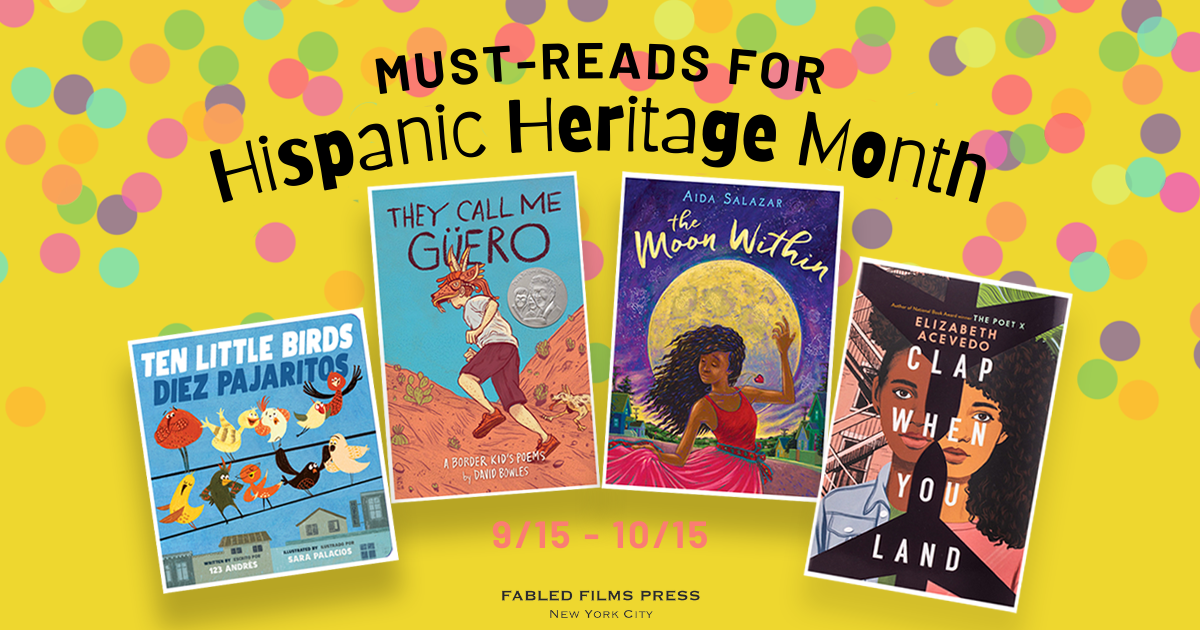 Celebrate Hispanic Heritage Month, also referred to as Latinx Heritage Month, by getting to know some of our favorite children's books by Hispanic-identifying authors for every age group. These incredible reads use and embrace a wide range of cultural traditions and nuanced language to shape their stories for kids.
Ten Little Birds / Diez Pajaritos by 123 Andrés, illustrated by Sara Palacios
Join Andrés Salguero, member of the Latin Grammy Award-winning children's musical duo 123 Andrés, in this charming bilingual book! Based on the song of the same name, this book brings the lyrics of 123 Andrés to life. Readers will be captivated by the colorful illustrations by Sara Palacios (recipient of the Pura Belpré Illustration Honor) and delight at each little bird's fun and distinct personality. Great for bilingual read-alouds! (Ages 1–3)
They Call Me Güero by David Bowles
Author David Bowles uses his experience as a teacher to create a relatable middle-grade novel about a boy living near the Mexico–US border who writes poetry to grapple with his cultural identity. In the book, people call him Güero because of his red hair, pale skin, and freckles, but beneath the surface, he's a reader, gamer, and musician. As Güero faces the start of seventh grade, he'll rely on his heart and smarts—and of course, his poetry! This incredible book has won multiple awards including the 2019 Walter Dean Myers Honor Book for Outstanding Children's Literature; the 2019 Pura Belpré Honor Book; the 2019 Claudia Lewis Award for Excellence in Poetry; and the 2019 Tomás Rivera Mexican American Children's Book Award. (Ages 9–12)
The Moon Within by Aida Salazar
Debut author Aida Salazar tells a story of friendship, family, and growing up in this refreshing middle-grade novel. Meet Celi Rivera, whose life "swirls with questions" as she comes of age, especially when her mother insists on throwing her an ancestral Mexican ritual—a moon ceremony—when Celi gets her first period. Celi must navigate these questions—about her changing body, her first crush on a boy, and her friend's exploration of gender fluidity—and find the courage to be who she wants to be. (Ages 9–12)
Clap When You Land by Elizabeth Acevedo
This critically acclaimed YA novel by Elizabeth Acevedo follows sisters Camino Ross, who lives in the Dominican Republic, and Yahairo Ross, who resides in New York City—both unaware of the other's existence. When the sisters learn that their father has died tragically in a plane crash, they must face their brutal new reality and confront the family secrets their Papi left behind.
This book is also available as an audiobook, narrated by the author, who is the Young People's Poet Laureate for 2022–2024 and an incredible performer. (Ages 14–17)