Book Review: Pie in the Sky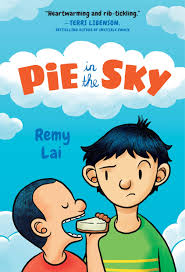 Cake has always been one of my favorite desserts. Carrot cake, German chocolate cake, and, of course, the best of the best—birthday cake! In Remy Lai's Pie in the Sky, the main character Jingwen makes an abundance of cakes. Every single one looked absolutely mouthwatering, but I didn't have so much as a spoonful of frosting nearby! I'm already looking forward to a reread—and this time I'll be huddled up in a bake shop.

When eleven-year-old Jingwen moves to Australia, he feels like he's moved to an entirely new planet with creatures who speak an alien language. Since he doesn't speak English, making new friends is hard, and taking care of his annoying younger brother, Yanghao, is a pain. It seems like the only thing that brings Jingwen joy is making the cakes from the menu of Pie in the Sky, a shop his father had planned on opening before he tragically passed away. But will his mother's rule—no baking when she's not home—stop Jingwen from baking cakes? Or will Jingwen find a way around her orders and finally allow himself to work through the grief of losing his father?

I adored so many elements about this book, from the deliciously described cakes to the sweet friendship Jingwen develops with his classmate, Ben, over their mutual love of dessert.

But above everything else, my favorite part of the book was the relationship between the two brothers. Despite annoying Jingwen, Yanghao quickly endears himself to the reader and adds a sweet, comedic touch to many of the scenes. The two brothers fight all the time, and their banter reminded me of how much I used to squabble with my own younger brother. It felt incredibly realistic, as did the relationship between Jingwen and his father.
While Yanghao might want Jingwen's cakes just so he can eat them, Jingwen bakes to feel connected to his father and to work through the complex emotions he feels towards his father's death. I don't normally tear up during books, but I found myself quietly crying at a point in the latter half of the book. I didn't even notice I was tearing up until the droplets landed on the page!
The heartfelt prose is complimented by graphic novel elements embedded throughout the story. Colored with a pleasing blue, the illustrations depict a wonderful array of emotions and charm.
At one point in the book, Lai writes about how delicious caramel requires a balance of sweetness and salt. I believe books are similar: Pie in the Sky is a delightful treat because of how it balances the bitterness that comes from feeling isolated in a new place and dealing with the complexities of grief, and the sweetness of healing, familial love—and, of course, a kitchen full of cakes.

Disclosure: I am an affiliate of Bookshop.org and I will earn a commission if you click through and make a purchase.