Book Review: Stand Up, Yumi Chung!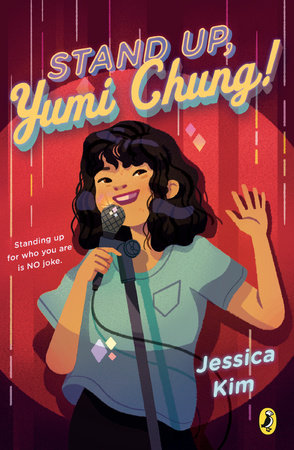 Are you obsessed with Netflix comedy specials? Do you salivate at the mere thought of Korean barbecue? Are you, or have you ever been, a middle schooler? If you answered yes to any of these questions, do me a favor and grab a copy of Jessica Kim's Stand Up, Yumi Chung!—a delightfully warm, deliciously funny middle-grade novel that is sure to get you smiling.
In Stand Up, Yumi Chung! eleven-year-old Yumi has the material to become a comedy star but isn't sure if she has the courage to reach her goals. Although comedy is Yumi's passion, her shyness often gets in her way—as do her parents, who are more concerned with Yumi getting a scholarship to a private school than supporting her comedy efforts. However, when a case of mistaken identity finds Yumi in a comedy class taught by her favorite YouTube star, Jasmine Jasper, Yumi starts to take steps toward her dream . . . only to quickly find herself in over her head instead. Will Yumi carry on the charade to further her own dreams? Or will she come clean and risk disappointing everyone close to her?
I read this book a while back, but it still lingers in my mind simply because of how much I related to middle-grade Yumi. A big part of that comes from the Korean culture in the book, but it also goes beyond that. In middle school, I was super shy, but I joined the improv comedy club at my school as a way to find my voice. Because of this, I could definitely relate to how Yumi both loves comedy but gets nervous while performing, and I was wholeheartedly rooting for her to succeed throughout the entire book. In fact, it's been a long time since I encountered a character whose personality so closely aligned to my own (and whose hairstyle mirrored my own when my mom forced me to get a perm!).
Still, beyond my fondness for Yumi, there was so much to enjoy about this book—the complex, heartfelt dynamic between Yumi and her parents, the lively side characters, and the yummy food. Plus, I can't forget the humor! This is a book about comedy, and the writing style reflects that. I had a lot of fun reading Yumi's stand-up jokes, and since this book is told in the first person, the reader gets to spend the entire book in Yumi's lively, clever mind. And trust me—that's something that you definitely don't want to miss out on!
Disclosure: I am an affiliate of Bookshop.org and I will earn a commission if you click through and make a purchase.