Book Review: The Doll People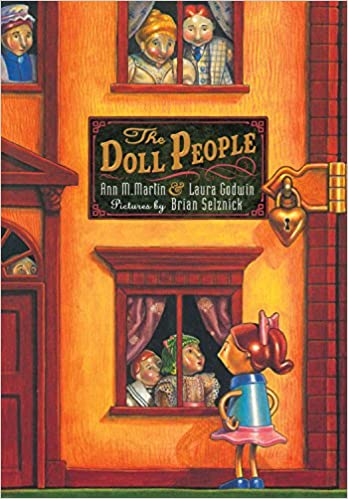 I first read The Doll People by Ann M. Marlin and Laura Godwin when I was in elementary school. So when I was on tour a few weeks ago and the owner of Blue Willow Bookshop mentioned the title to me, a couple bells rang faintly in my mind. But I couldn't quite put a plot to the name. Then, I saw the cover. Immediately, warm memories rushed back to me. Of course, I thought. How could I forget about The Doll People? How could I forget about green-haired Annabelle or the adventure of being cooped up in a single house? Whether you're in a nostalgic mood like me or you're someone who is just now encountering this charming series, The Doll People is sure to win you over.
Annabelle Doll has been an eight-year-old doll for longer than the life span of most humans. For the most part, each day has the same routine. She lives with her family in their doll house, moving around at night but making sure to hold perfectly still whenever her owner, Kate, plays with her. But when Annabelle finds the secret diary of her Aunt Sarah, who went missing more than forty-five years ago, her whole life is shaken up. Annabelle is determined to find her missing aunt no matter the consequences. The biggest danger: being trapped in "the permanent doll state" for risking the well-being of other dolls. Luckily for her, when some strange new dolls move into Kate's little sister's room, Annabelle meets Tiffany, the perfect friend to help with her new mission.
The Doll People is the literary equivalent of chicken soup with its feel-good nature and warmth. My favorite aspect of the book is the lives and lore of the dolls. Martin and Godwin write about the dolls singing together after the humans go to sleep and create wonderful backstories—like why Annabelle's hair is painted green. The contrast between the century-old porcelain dolls and the new plastic dolls makes for a lot of fun moments, and the friendship between Annabelle and Tiffany is so sweet. Illustrations by Caldecott-winning artist Brian Selznick add another dimension of charm. I read this book on a gloomy, rainy day. Afterward, I was full of sunshine and good cheer.

Disclosure: I am an affiliate of Bookshop.org and I will earn a commission if you click through and make a purchase.