Celebrate Pride Month with a Great LGBTQ+ Children's Book!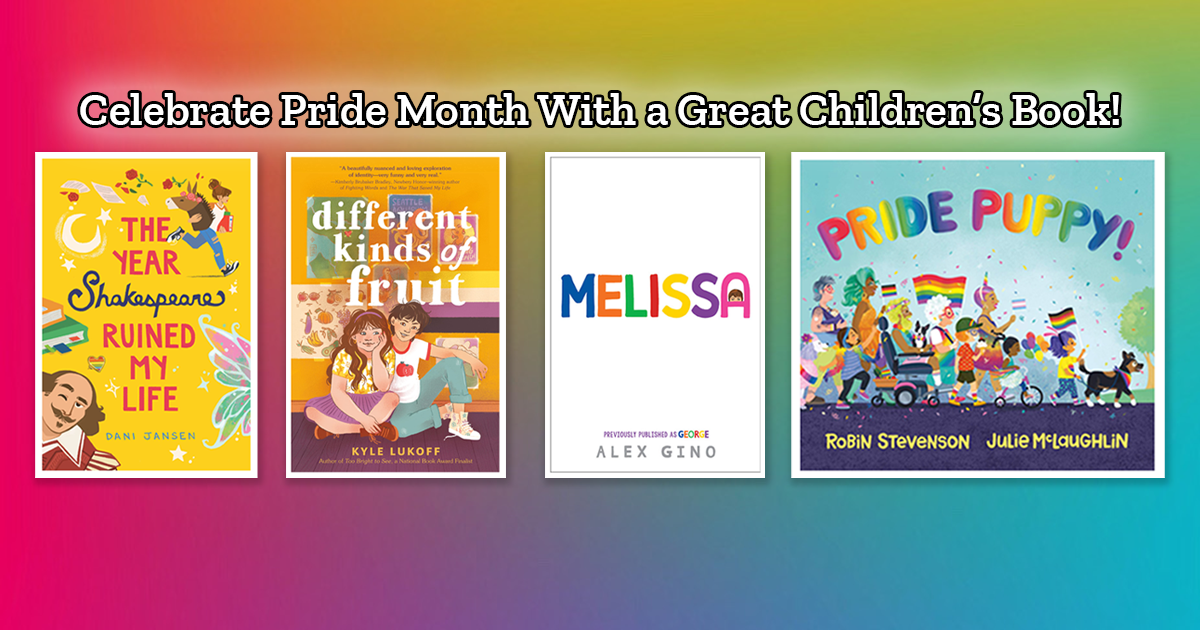 We believe that some of the best children's stories are ones of inclusivity, community, and being yourself. We've picked out some excellent reads that highlight the experiences of the LGBTQ+ community—all written by LGBTQ+-identifying authors! This Pride Month, do more than celebrate—read!
Pride Puppy! by Robin Stevenson (she/her), illustrated by Julie McLaughlin (she/her)
Here comes the Pride parade! This beautifully illustrated rhyming alphabet book allows readers to follow a runaway puppy through the diverse, vibrant setting of a Pride parade. (Ages 4-6)
Melissa by Alex Gino (they/them)
Originally published as George, Melissa follows a transgender fourth-grade girl struggling to keep her identity a secret. When she finds out that the class play is going to be Charlotte's Web, Melissa concocts a plan—not only to land her dream role as Charlotte in the play, but to let everyone know who she really is. (Ages 8-12)
Different Kinds of Fruit by Kyle Lukoff (he/him)
Join sixth-grader Annabelle as her newfound friendship with non-binary student Bailey sets her on a journey of self-discovery. As Annabelle navigates identity, privilege, and inclusivity, she finds herself on a path of reflection and growth. (Ages 8-12)
The Year Shakespeare Ruined My Life by Dani Jansen (she/her)
This YA story follows high schooler Alison Green, a girl determined to become valedictorian who quickly finds herself overwhelmed when she volunteers to put on her school's production of Shakespeare's A Midsummer Night's Dream. Not only must Alison struggle to balance the newfound chaos in her life, but she must also come to terms with her own identity within her friendships, family, and sexuality. (Ages 12-18)
Not only do our picks make great reads for Pride Month, but they can be enjoyed all year round!