Why I Picked When You Trap a Tiger for the Get Caught Reading Campaign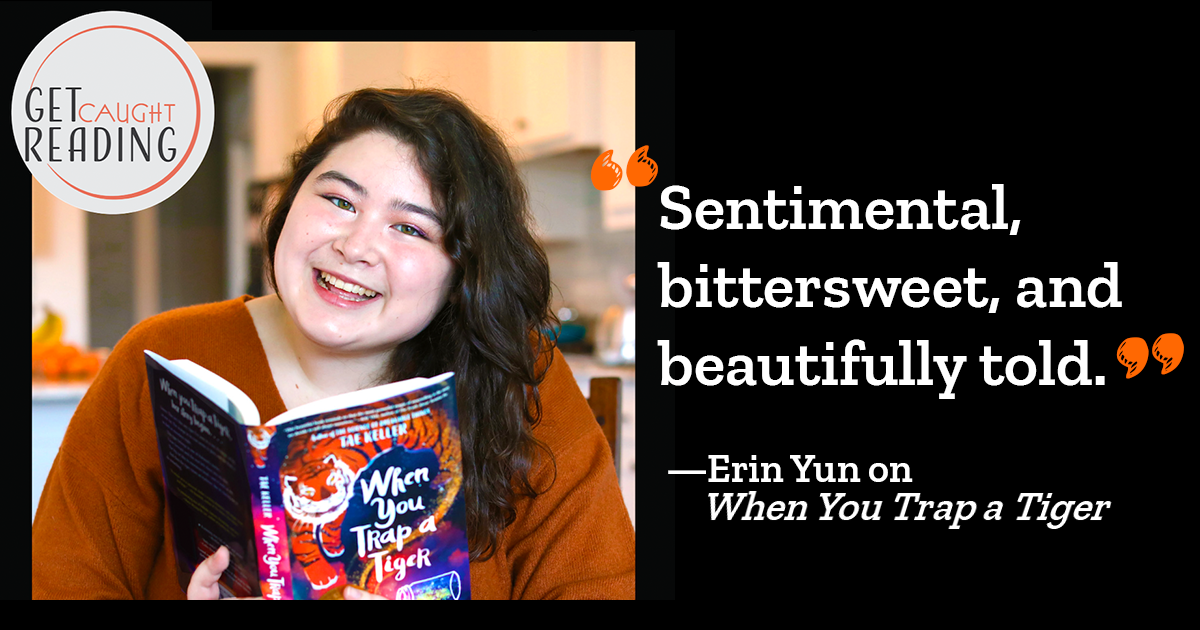 There are not many books that make me ugly cry in public, but Tae Keller's
When You Trap a Tiger
is one of them. Sentimental, bittersweet, and beautifully told, this Newberry Award-winning book can be devoured in one sitting. I did just that, and I hope that you will too.
At the beginning of the novel, middle grader Lily and her family are on their way to move in with Lily's sick halmoni (grandmother) when Lily spots a magical tiger on the side of the road. As it turns out, long ago, Lily's halmoni stole something important from the tiger—and now it wants it back. And to up the ante? The tiger promises Lily that, in exchange for her help, the tiger will cure halmoni's sickness. But knowing that tiger bargains are seldom what they seem, Lily sets out to trap the tiger instead . . .
Although the title and premise of this story are quite fantastical, it's the emotional scenes and realistic characters that make this book shine. Lily is a dynamic protagonist who changes and evolves. At the beginning of the novel, she describes herself as quiet to the point of invisibility (a sharp contrast to her
extroverted sister). But as she navigates grief, change, and loss, she grows to find her voice—quite literally, as so much of this book is about the transformative power of storytelling.
I could go on about the beauty of the themes, the charm of Keller's voice, and the complexity of the relationships in this book, but the best way to experience Tae Keller's magic is to check out
When You Trap a Tiger
yourself. It's poignant and expertly crafted, and if there's a better middle-grade book on
understanding and accepting loss, I haven't found it.
Erin Yun is the author of the bestselling AAPI middle-grade series, Pippa Park. She attended NYU and studied creative writing at Cambridge. She used her personal lens to reimagine Great Expectations into Pippa Park Raises Her Game and developed a writing workshop for kids on how to create a retelling. Folks can tell she grew up in Texas by how often she says ya'll.
Want a FREE Get Caught Reading poster of Erin Yun? Fill out the form below!