Reimagining Great Expectations into a Middle-Grade Novel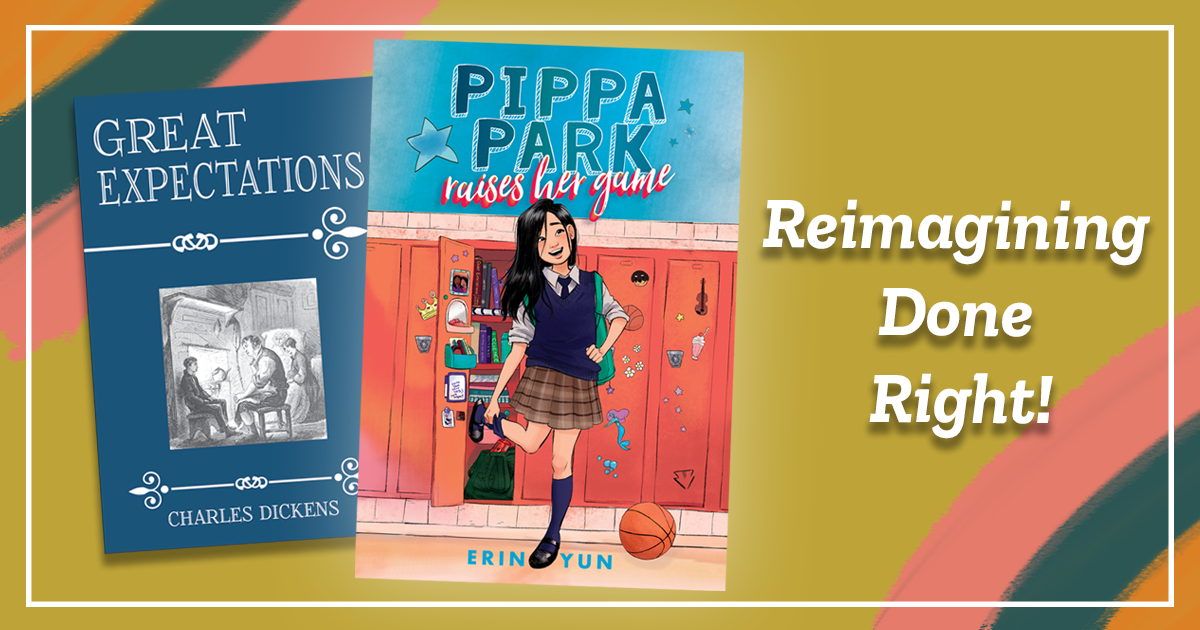 For my debut novel,
Pippa Park Raises Her Game
, I followed a pretty unconventional path. Instead of writing my book and then querying literary agents, Fabled Films Press put out a call for submissions for stories inspired by
Great Expectations
as part of a broader initiative to reimagine classic literature from different perspectives. Immediately, ideas churned in my mind, and I thought about almost nothing but how to update the iconic Dickens novel into a modern middle-grade book. After experimenting with themes, characters, and plot points, sleeping very little, and playing
Hamilton
's "My Shot" constantly, I had, by the end of the week, the first synopsis for the book that would later become
Pippa Park Raises Her Game
.
Similarities to Great Expectations
While brainstorming, I decided to make
Pippa Park Raises Her Game
a loose reimagining rather than a strict retelling. Still, I hoped that fans of the original would recognize the basic premises. In
Great Expectations
, the main character, Pip, has a mysterious benefactor who helps him become a gentleman.
In Pippa Park Raises Her Game
, Pippa receives an unexpected basketball scholarship to an elite private school, unlocking a world of new opportunities. Both books share themes of ambition and class, feature a cold, aloof love interest, and have similar core relationships, such as the caring bond each protagonist has with an older sister's husband. But while I had a lot of fun figuring out which pieces of
Great Expectations
would carry over to my reimagining, I also wanted to make sure that
Pippa Park Raises Her Game
would stand out as its own story and could be appreciated by kids who had never heard of Dickens.
New Twists
The first thing I switched up was the setting. Instead of having the book take place in nineteenth-century England, I decided that Pippa Park would live in twenty-first-century Massachusetts. To me, the change initially felt small, but it ended up creating many differences: for example, the change in setting allowed me to introduce new conflicts—like an anonymous social-media bully—that you wouldn't find in Dickens's works. And while the contrast between classes exists in both novels, it's portrayed in different ways— Pippa's family, for example, owns a laundromat (partly because blacksmiths just aren't so popular these days). I also added in and swapped out many characters and made plenty of plot changes.
However, out of all the twists I created, I think developing the character of Pippa Park helped me the most as I moved the story away from the source material and into something new.
From the start, I knew that I wanted Pippa to be a Korean American girl. I'm half-Korean, so incorporating bits of my childhood into Pippa's life, from Korean food to elements of Korean pop culture, felt natural. Digging deeper into her mind took more time, but through countless weeks spent sketching Pippa, taking personality quizzes for her, and just listening to her voice, I was able to shape her into a fully developed character—a slightly awkward, enthusiastic, and endearing twelve-year-old girl with big ambitions to become a star basketball player.
After I began to know who Pippa was, she started to make her own distinct choices, taking the book in a direction that I hadn't imagined from the start. It's kind of funny: as a writer, I thought I would have complete control over my character's behaviors, but in reality, it's very much a give-and-take. I come up with the plot points that I think will occur, and Pippa decides if she agrees or disagrees.
So, yes, Pippa Park Raises Her Game is a reimagining of Charles Dickens's Great Expectations. But it's also a book about new friendships, first crushes, and the immense pressures kids face.
It's about family, basketball, ambition, and a whole lot of Korean food. And, above all, it's about one girl who, in trying to fit in, discovers that maybe she's meant to stand out instead.