Graphic Novel Review: Baba Yaga's Assistant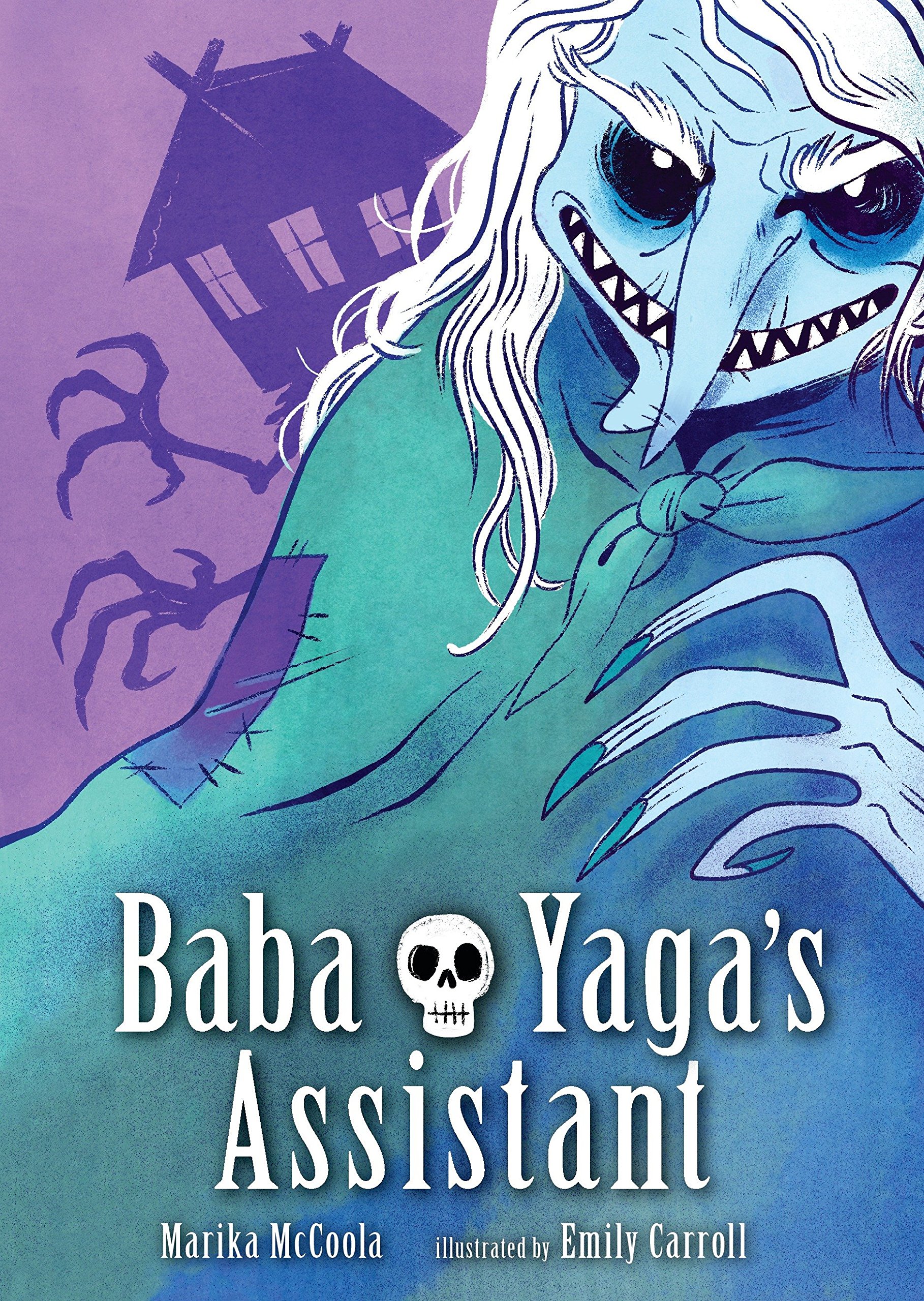 Baba Yaga lives in a hut that moves around on chicken legs. She rides through the air in a mortar driven by a pestle. She eats children. If any of those things entice you, you'd definitely be a fan of Baba Yaga.
A bookseller at University Book Store in Seattle recommended Marika McCoola's graphic novel Baba Yaga's Assistant to me, and I didn't even have to flip open the cover to know that I had to buy it. The first reason? Well, I didn't know much about Baba Yaga and wanted to learn more about this intriguing figure from Slavic folklore. The second reason? The cover! The book is illustrated by Emily Carroll, whose work I absolutely adore. She's a master at delightfully creepy art (check out an anthology of her comics in Through the Woods), and Baba Yaga's ominous gaze and wicked grin seemed to single me out, daring me to flip through the pages.
The main character, Masha, used to delight in her grandmother's stories as a kid—the ones about her time spent with Baba Yaga, an old witch who delights in testing resourceful children (and only occasionally eating them). Now, Masha has grown up, her dad is remarrying, and she feels unwanted. So, when she sees a help-wanted post from Baba Yaga in the newspaper, she decides to prove herself worthy of being the fearsome legend's assistant. Using her grandmother's knowledge and her own determination, Masha must pass a series of tests, from cooking dinner to washing live, slithering snakes. But what is Masha supposed to do when she finds her stepsister on the menu?
While I started this book expecting a certain amount of spookiness, it's much sweeter and more optimistic than I had predicted, from the writing to the art. Baba Yaga has a terrifying appearance, which contrasts with the book's bright and colorful art and dreamy, fairy-tale-looking panels. While Baba Yaga is capable of cruelty and deception, she has a sweetness about her when it comes to Masha—like a cranky, brutal grandmother. I did wish there was a little more resolution between Masha and her father, but overall, this was a charming read that simultaneously had me excited for the main character's future even as I wanted to give her a big hug for everything that happened in the past.

Disclosure: I am an affiliate of Bookshop.org and I will earn a commission if you click through and make a purchase